Karate Kick for Billy Reuben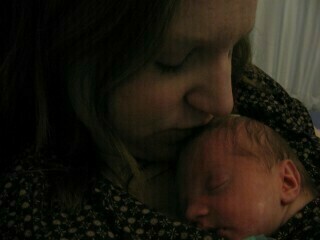 Here are some more photos of my boy.Kaleb: Day Five Check out his mad karate skills!!

Kaleb had another great day in the NICU. I dropped Jennifer off around eleven and she spent almost the entire day by his side. She did get to take him out for lunch and he successfully latched on and had a little breast milk. He really seems to be getting the hang of it and hopefully he will be able to get his entire meal that way instead of via the stomach tube.

In other news, he may be able to come out from under the lights tomorrow, which means he can try on his new outfits. He may also get his IV removed tomorrow night, which will be a huge step. I am sure he will now be a southpaw after all of the strengthening he is getting on his left arm. We also are reconsidering going to Mount Auburn and instead having him transferred to Winchester Hospital instead. It sounds like they have a better NICU facility there and that he will get more specialized attention. The distance is about the same, but there is free parking and it is on my way to work, which will be much nicer than the current setup. We still need to work out the details, but I think I am in favor of that move. The details about when he will transfer and when he will come home are still questionable. The current prognosis as far as we can tell is that Kaleb will be moved on either side of this weekend and then from there we don't really know.

The bottom line is that he is doing really well and we are excited with his progress.