The new AppleTV was officially released at the end of September, but with most Apple devices I couldn't actually buy one in the Apple Store (so annoying). However, this time instead of getting on a waiting list or going to the Apple Store everyday for three weeks I decided to order it online. About a week after ordering it appeared on my doorstep while I was at work. Of course now being the parent of two children I couldn't just start hooking it up when I returned home and had to wait a few hours before I had some free time. Once I heard the "five minutes 'til dinner" call I figured I would get started and see how far I could get. It turns out that is all I needed to get it hooked up to the TV, integrated with the iPhone remote and playing music from the MacBook. Apple has done a great job of simplifying the AppleTV and no longer requires syncing media like an iPod, instead you just start Home Sharing (which only involves entering an Apple ID and password) on the AppleTV, iPhone and MacBook and you have access across the devices.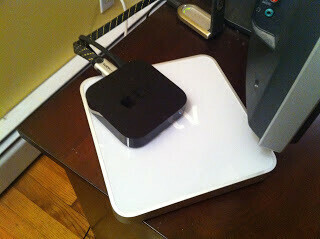 I was very curious about whether or not I could set up the screen saver to use my photos instead of the stock photos and was happy to see it was not only possible, but much easier than worrying about syncing and having enough free space for photos. Of course the MacBook does have to be awake with iTunes open, which will be a change for us since we usually close it after every time we use it. It certainly makes me want to get a Mac Mini so the media will always be available, but I need to think about how that setup will look a little more before diving in with another new plan.
Finally, I tested out the Netflix application and it was a dramatic improvement over the Tivo Netflix application. The Tivo requires you to adding things to your InstantQueue on another device before it is available. The AppleTV on the other hand lets you browse movies and watch them right away complete with descriptions and controls for modifying your InstantQueue.
So far I have only spent a little bit of time with the new AppleTV, but I am happy with my purchase. For $99 the improved speed, Netflix and small size is well worth the price, but the possibilities going forward with AirPlay and integration with other iOS devices makes this a no-brainer.
Oh yeah and having a new device also gave me a chance to move some electronic devices around and clean up my setup. I ended up removing our audio receiver since we never use it and in its spot in the entertainment center moved the cable modem, 3G MicroCell and AirPort Extreme. Ever since I added the 3G MicroCell to the picture the kitchen was beginning to get cluttered with wires and devices, but I couldn't find a good place to put everything. Now they nicely sit in the entertainment center and also allow me to have some hard-wired network connections between the Tivo, Wii and Apple TV.