Since buying an iPad Pro way back in 2015 I have come to rely on a few different apps for my day to day use at work and for my creative endeavors at home.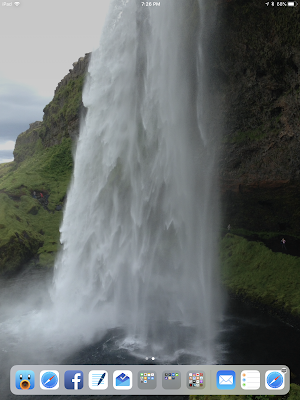 My Current Home Screen
Note Taking
I played around with a few note taking apps in the beginning, but settled on
Good Notes 4
for a few different reasons. First and foremost it has great Apple Pencil support and includes a neat feature that lets you lasso text and move it around, which is helpful if your writing style is a little messy and sparse. My favorite feature is that you can import PDF files from a number of file providers like OneDrive, Google Drive, DropBox or in iOS 11 the Files app. Once imported you can mark the documents up and then export them back to any provider you want. The app has the concept of categories to keep you organized and has the concept of notebooks with all different types of paper to choose from.
Automation
iOS apps have always been sandboxed since day one and this limits the interactions you can do between apps. In iOS 8 the concept of app extensions was introduced which let developers create extensions allowing one app to open content in a different app. The
Workflows
app, which Apple bought within the last year, lets you do lots of different tasks across multiple apps. You create a workflow and then using a building block interface construct a workflow that can get a distance from the Maps app and plug it into a prebuild text message for sending. You can add data to the health kit app or do more complex things using web services.
FTP and SSH
Managing my web server from the iPad is done easily using
Coda
. The app includes the ability to configure multiple FTP servers, with great text editing tools and an SSH client when you need to update something remotely. The text editor supports lots of different syntax formats, which is useful when editing on your mobile device.
File Providers
I have my files spread across multiple file providers like
DropBox
,
Google Drive
,
OneDrive
and iCloud Drive. Once you install any of these apps the built in Files app will gain access to the files and you can quickly access them from any apps that properly integrate with Files.
Miscellaneous Apps
Here are some other apps I use on a regular basis: